Ultrasonic Blind Spot Detection
360° 3D Around-View System with Radar System for Blind Spots
360° 3D Around-View System with Radar System for Blind Spots provides a true 360° panoramic bird-view, monitoring with no blind spot to ensure driving safety. It is the best choice to assist vehicle driving for bus, truck, ambulance, and limousine, etc.
1080P high definition fisheye camera input with good real-time display, offering HD and stable images with screen layback down to 150ms.

Automatic calibration can be finished in 1 minute, and it supports automatic plane correction, saving time and effort.

Multiple viewing models, 3D/2D view switching freely.

Built-in AI algorithm, integrated with LDW+FCW+both sides BSD 360 degree detection, is able to detect lane departure, forward collision and overtaking/merging around the vehicle, and then to give an alarm.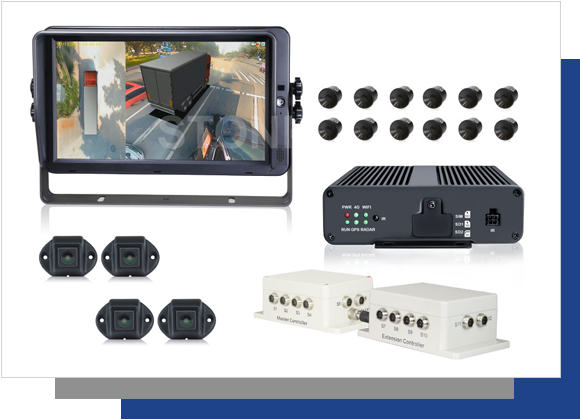 Contact us to book your demo today!